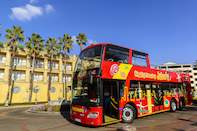 © Roger de la Harpe
Tour of Golf Reef City.
Half Day Johannesburg City Tour

This Johannesburg day tour departs daily at 13:00pm and ends at 17:30pm. Travel to downtown Johannesburg, view from the 'Top of Africa', Brixton Tower, Houghton, travel past the Supreme Court, 'Museum Africa' (time permitting), Nelson Mandela Bridge in Newtown and tour the Constitution Hill (Constitutional Court and Old Fort Prison).
Half Day Gold Reef City Tour

This Johannesburg day trip departs daily at 12:45pm and returns at 17:00pm, excluding Mondays. Gold Reef City is a recreated 1890's mining village. Here you will enjoy a sightseeing train, descend down Gold Mine Shaft to Level 5, see gold pour, and witness traditional African dancers.
Half Day Soweto Township Tour
This Johannesburg day tour departs daily at 08:30am and returns at 12:30pm. This tour allows you to explore Soweto's informal settlements, affluent suburbs, Mandela's house, the Hector Peterson Memorial, celebrity houses and a traditional 'shebeen' (tavern) for refreshments (own account).
Full Day Sun City and Pilanesberg Nature Reserve Tour

This Johanesburg day tour departs daily. The time is given upon reservation. Absorb the beauty of nature with the morning spent on game viewing in the Pilanesberg Nature Reserve - a Big Five reserve.
After a relaxing morning you will proceed to Sun City for an afternoon at leisure to sample the activities at the 'Kingdom of Pleasure' - Sun City. Enjoy the casino, swimming pool and the Lost City (own account).
Half Day Lesedi Cultural Village Tour

This Johannesburg day trip departs daily at 15:30pm and returns at 20:00pm. Experience African culture at its best - a Zulu warrior dance combined with other ethnic traditional dances. See the colourful huts of the Ndebele tribe adjacent to those of the Zulu, Xhosa, Pedi and Sotho. Enjoy a pan African feast with delicacies from the north, east and southern Africa.