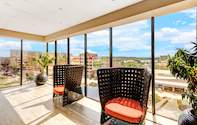 With its luxury location and amenities, a stay at Hotel@Hatfield makes it easy to experience Hatfield and the renowned City of Pretoria.
The Hotel@Hatfield is centrally located in the heart of Hatfield, only minutes away from the University of Pretoria. The surrounding area is home to a number of embassies, shopping centres and restaurants.
Hotels@hatfield is the perfect accommodation for visitors looking to stay close to the action. We are right on your doorstep, offering comfort and luxury at affordable prices.
Directions from O.R. Tambo International Airport in Johannesburg
Follow R21 highway to Pretoria
Take N1 to Polokwane
Follow the N1 North
Take M2 Pretoria/Witbank off-ramp
Follow M2 Pretoria, travelling west down Pretorius Street.
Turn left into Gordon Street, which will become Jan Shoba Street.
Turn right into Burnett Street
Hotel@Hatfield is situated 100m up the road, on the left-hand side on Burnett Street
Directions from OR Tambo International Airport using the Gautrain
Travel on the Gautrain from OR Tambo Station to Hatfield Station (change over at Marlboro Station)
Estimated traveling time 57 minutes.
Hotel@Hatfield is situated 100m from the Gautrain Hatfield Station.
Directions from Johannesburg
Take N1 to Polokwane
Follow the N1 North
Take M2 Pretoria/Witbank off-ramp
Follow M2 Pretoria, travelling west down Pretorius Street.
Turn left into Gordon Street which will become Jan Shoba Street.
Turn Right into Burnett Street
Hotel@Hatfield is situated 100 meters further along, on the left-hand side of Burnett Street
GPS Co-Ordinates
25° 45' 0.5" S 28° 14' 01.6" E