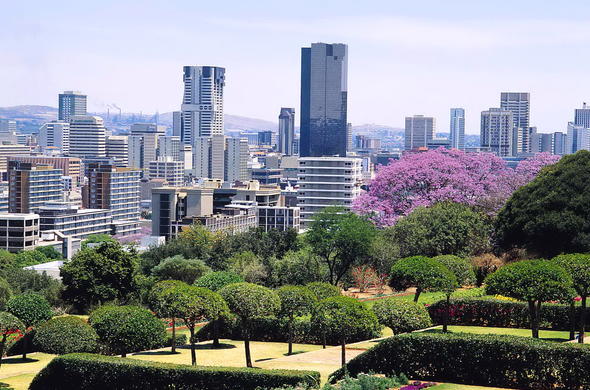 The atmosphere of Pretoria is quiet and relaxed. The beautiful purple Jacaranda trees are very typical in Pretoria and invite visitors for a stroll in their shade.
The architecture is influenced by the Vortrekkers who arrived here in the middle of the 19th century. This city in Gauteng, South Africa is the home of a lot of interesting museums, art galleries and premier shopping malls. Enjoy exquisite restaurants or visit nearby nature reserves and bird sanctuaries. Pretoria is also a big learning centre and boasts four universities and other institutes.
Pretoria, also known as Tshwane, enjoys its quieter demeanour in relation to the hustle and bustle of its neighbour Johannesburg. It has long been the Administrative Capital of South Africa and where most foreign embassies are located. Even after its emergence out of the Apartheid era, this is the preferred home of Government officials and those seeking a slower pace away from the intense atmosphere of "Jozi".
Pretoria lies in the Gauteng province and has many attractive features with grand buildings and wide streets that were built to allow Voortrekkers, who arrived in the 1850's, to turn their ox-wagons. The avenues are lined with magnificent Jacaranda trees that burst in to bloom every October - hence the name Jacaranda City.
Many sculptures and monuments represent the Afrikaner history and Church Square has wonderful examples of fine architecture. Visitors find fascinating museums including the Transvaal Museum which has wonderful natural history displays, visitors can see Mrs Ples, the australopithecine fossil found at Sterkfontein in the Cradle of Humankind.
Other interesting places are the Cultural History Museum and the Smuts Museum. More must see excursions in Pretoria include the Zoo, the Pretoria Botanical Gardens, Melrose House, the Pioneer Museum and Sammy Marks Museum.
On the hilltop overlooking the whole of the city are the magnificent Union buildings designed by Sir Herbert Baker, they were built in golden stone with, Italian tiled roofs, a Romanesque amphitheatre and African sculptures.
There are quite a few open spaces for walks and mountain biking. Located nearby is the Premier Game Reserve just next door to the Cullinan Diamond Mine - where the largest diamond in the world was discovered.
Other outdoor excursions worth doing include visits to the Wonderboom and Groenkloof Nature Reserves, the Austin Roberts Bird Sanctuary, and also a steam train ride around Pretoria. Short horse trails are offered at the Voortrekker Monument and also in the Premier Reserve, where White Rhino and Eland can be seen.
Those seeking adventure could do a tandem skydive or even a first jump at the Pretoria Skydiving Club - the largest in the country. This city in Gauteng has four universities and a number of scientific institutes.
Pretoria also has its share of high-tech shopping centres, art galleries and multi-culinary restaurants. Its located in a sheltered valley surrounded by the Magaliesberg hills and does tend to be a couple of degrees warmer than Johannesburg.
Read more about
Pretoria Hotels
and Accommodation options.