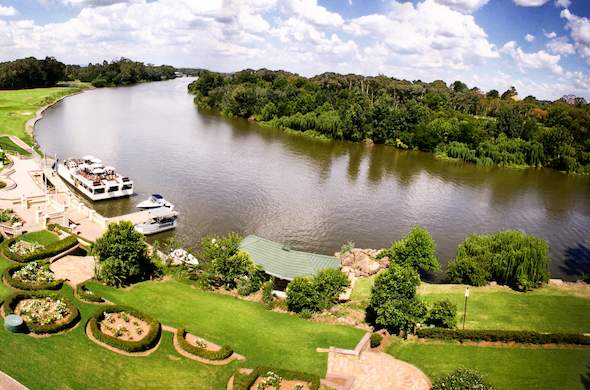 Riviera On Vaal Hotel & Country Club, Gauteng, South Africa.
The Vaal Area near Johannesburg in Gauteng is a perfect recreation destination with the Vaal River and Dam.
This Gauteng Wetland region offers world class events like the 'Round the Island' Yacht race. It boasts a wide range of sports activities like wake boarding, quad biking, hiking or safari game drives. This Gauteng area hosts two universities and is also the perfect spot for team building or conferences. Visitors interested in culture and politics will find important historical sites.
Located just 1 hours drive from Johannesburg, the Vaal is the place to go for rest, relaxation and water sports away from the stresses of the big city life. The mighty Vaal River actually forms the border between Gauteng and the Free State provinces. This is also where the huge Vaal dam is situated; this catchment area generates more than 80% of the country's electricity and covers an area of approximately 38 500km (23 923 miles).
The Vaal River is a serene and tranquil haven; visitors can soak up the peace in natural surroundings and even take a river barge cruise on the largest inland stretch of navigable water in South Africa. It has been a popular place for recreational activities and sports for many years.
This destination has also become a top choice for weddings, with many couples choosing to unite in one of a wide range of settings. Visitors can relax with a good book or undertake one of many exciting activities available such as canoeing, abseiling, rock climbing and white water rafting.
Also available are safari game drives, hiking, quad biking, paintball, wake boarding and Jet skiing. Apart from the excellent water sports available, golf enthusiasts will be delighted with the choice of 3 magnificent fairways along the riverside.
There is a wide variety of accommodation available on the Vaal, from smaller more intimate establishments to 3 larger hotels and resorts. Self-catering and caravanning facilities can also be found along the river. The area is well supported with a casino and conference facilities, lots of kid's entertainment and indoor fun like tenpin bowling.
Visitors can take their time and enjoy a range of meals offered at the local restaurants in the area from traditional township food to a la carte menus and riverside dining - there is something for everyone. Another attractive place to go is the quaint town of Parys situated on the banks of the river. It is a popular holiday spot for swimming, fishing, bird-watching and boating.
This Gauteng region also has a number of historical sites and experienced political uprisings and tragedies, visitors can visit Sharpeville to see the monument erected in remembrance of the 1960 massacre of pass-protesters by police - also the revised democratic Constitution was signed here in 1996.
Vereeniging is the site of the Peace treaty that ended the second Anglo-Boer war. Due to its close proximity to the city, the Vaal is a good place for business tourism, conferencing and team building, with numerous options in place.
There are 2 large tertiary learning centres - North West University Vaal Campus and the Vaal University of Technology, and a number of other institutions.